After Kidnappers Cut Him With Machete And Left Him For Dead, Emmanuel Narrates How God Saved Him
After Kidnappers Cut Him With Machete And Left Him For Dead, Emmanuel Narrates How God Saved Him
A man who was left for dead after he was kidnapped and stabbed by Herdsmen inside the Bush in Benin has shared his 18 hours experience of how was able to survive the attack and return back home to his wife and family. This man goes by the name 'Mark Emmanuel' on Twitter and he shared his chilling experience in the den of the kidnappers. Read how it happened.
Mark says he was on his way to Warri as early as 5am in the morning because he was coming from Lagos and he still has intentions of returning back that day, so he left very early in his own Personal Vehicle. He was on Benin Ore Express way around 1:15pm when he suddenly heard what seemed to be a car tyre burst.
He didn't know what was happening but he checked his mirror and realized that other drivers behind him also heard the sound. He was still wondering what the sound could be only for him to turn around and saw 4 gunmen coming out of the bush, heavily armed with sharp machetes and AK47s. They started shooting in the air.
Before he could realize what was going on, more people came out from the bush and circled round their vehicles. At that time, there were 4 vehicles there but the driver who was behind him accelerated and drove into the bush immediately. The kidnappers approached the truck behind him and after chatting for a while, they allowed them to go. He was the only one left in this trap.
Then, the gang leader says 'take this one inside, he has family; they will pay for him'. It was at that point that he heard the accent which he said was Fulani accent and it dawned on him that he had been kidnapped by Fulani bandits.
The moment the leader said they should take Mark inside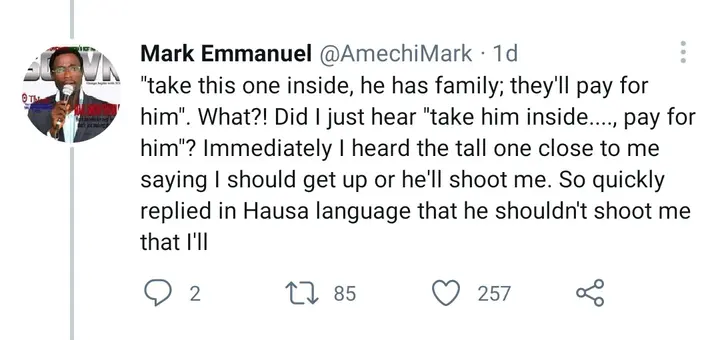 They walked him into a forest which he said they trekked for nearly 1 hour to show how deep it is. They stopped at some point and asked him that how much he has. He told them that he only has #70, 000 in his account. On hearing this, they became angry and gave him a heavy punch on his face. They said to him 'Do you think we are ordinary kidnappers? Fifty million naira, ten kobo or else one bullet for your head'.
They told him to keep his head down and wait till their leaders finished their operation and join them for negotiation. When the other gang members joined them, he was able to identify them as 5 Fulanis, their leader as Hausa and to his greatest unbelief 1 was Urhobo.
Mark identifes the kidnapers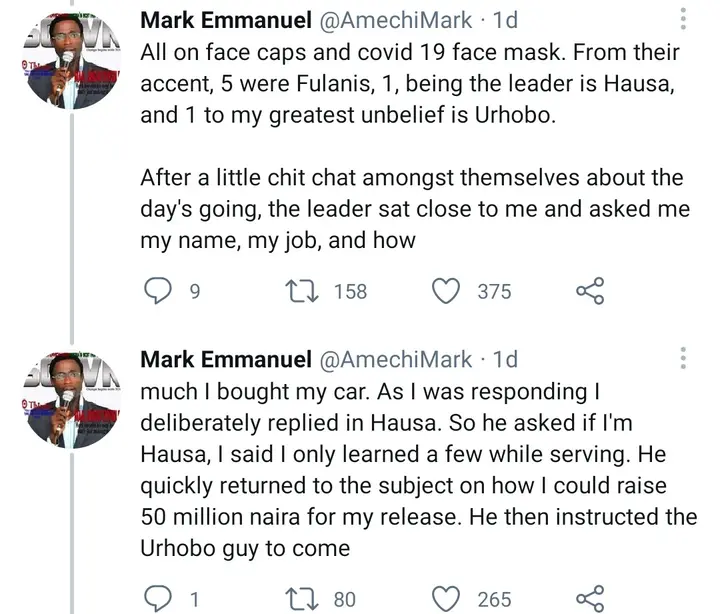 Before they started negotiating with him, they told him that the guys who escaped in a Mercedes Car earlier had been killed in the bush and he would also be killed if he does not give them what they want. They demanded for 50 million but the negotiator said they can collect #30 million as last price from him.
At some point, they divided themselves into a group of 5 and 2 as 5 went to the road again to look for more victims and he was ordered to follow the 2. When he saw that the 5 had gone in to the road again and out of the 2 that were left, one of them went to pray and the only one left with him had a machete and gun with him so, he risked it and tried to fight because he is convinced that whether he gives them the money or not, they would probably waste him in the bush.
He thought he would beat the only guy left but had no idea what he was made of. He started running in the bush to escape but the guy meet up with him in no time, pinned him down to the ground and started cutting him with machete. He struggled to defend himself but the guy was stronger than him and he hit his head on something and blood started gushing out.
Mark's struggle with one of the kidnappers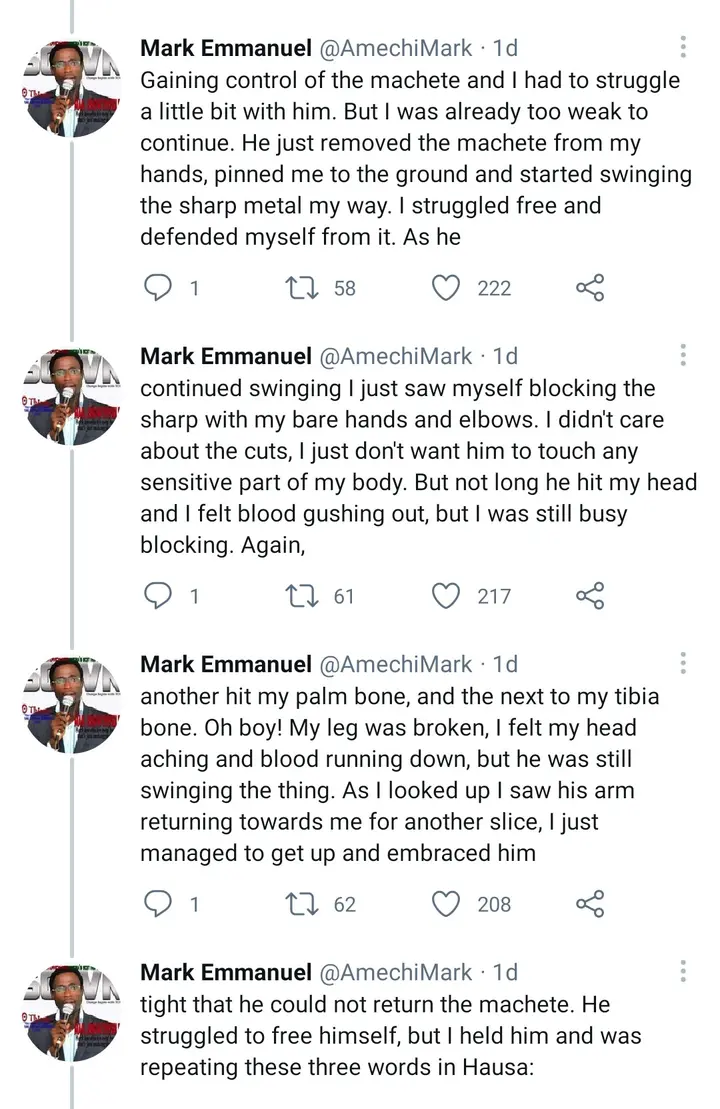 He told him that for fighting with him, he has already killed himself. He ordered him to lie down flat as he went to look for his gun. There was nothing Mark could do as he was already weak and could hardly breathe.
Mark was in critical pain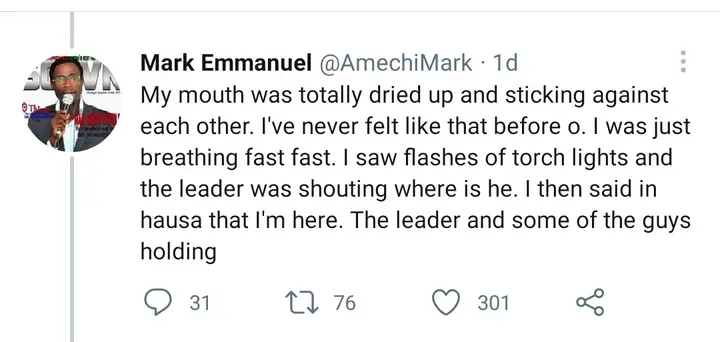 He was on that spot for hours and he couldn't move because of the wound. It was already 8pm and his mouth had become totally dried, he was breathing too fast and becoming weaker. He said that the Leader later joined them and when he saw his state, he was disturbed. The leader then asked him if he could walk.
He told him that he can manage. Then he told him to go because there is nothing they can get from him again. The first time he tried to stand up, he fell down. After trying for 3 times, he kept falling down due to the deep cut. The leader told them to get him a stick so that he would use it to walk. He tried using the stick but it was still futile and this time, the leader said they might have to kill him if he cannot walk himself to the road.
The moment mark was trying to stand up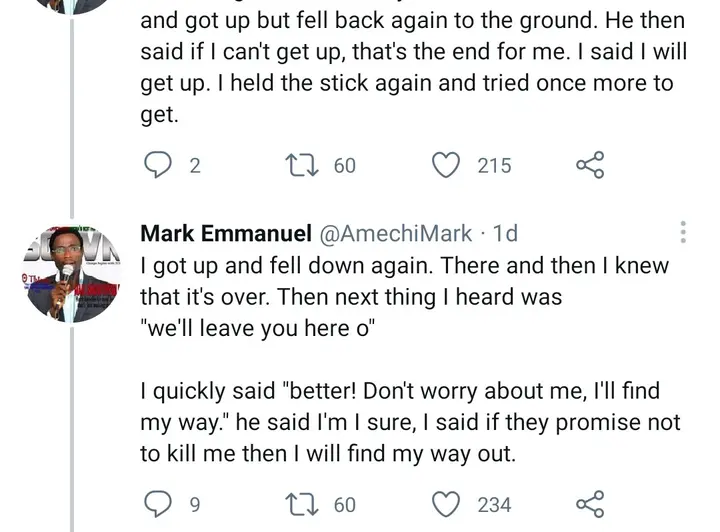 He doesn't know what to do but he told him that they should please leave him in the bush and he would find his way out of there. The leader then gave him strict warnings that there are some places he must not pass in the bush or else he would meet people that would waste his life. The leader gave him directions and left him in the pool of his blood. It was late in the night and he started crawling with his elbow and knees.
He managed to crawl for hours and later made it to the main road. It was around 6 am in the morning already and luckily a military vehicle saw him and they assisted him. They called his wife to confirm his identity after which they called an ambulance to carry him to LASUTH for treatment.
On the way to LASUTH for treatment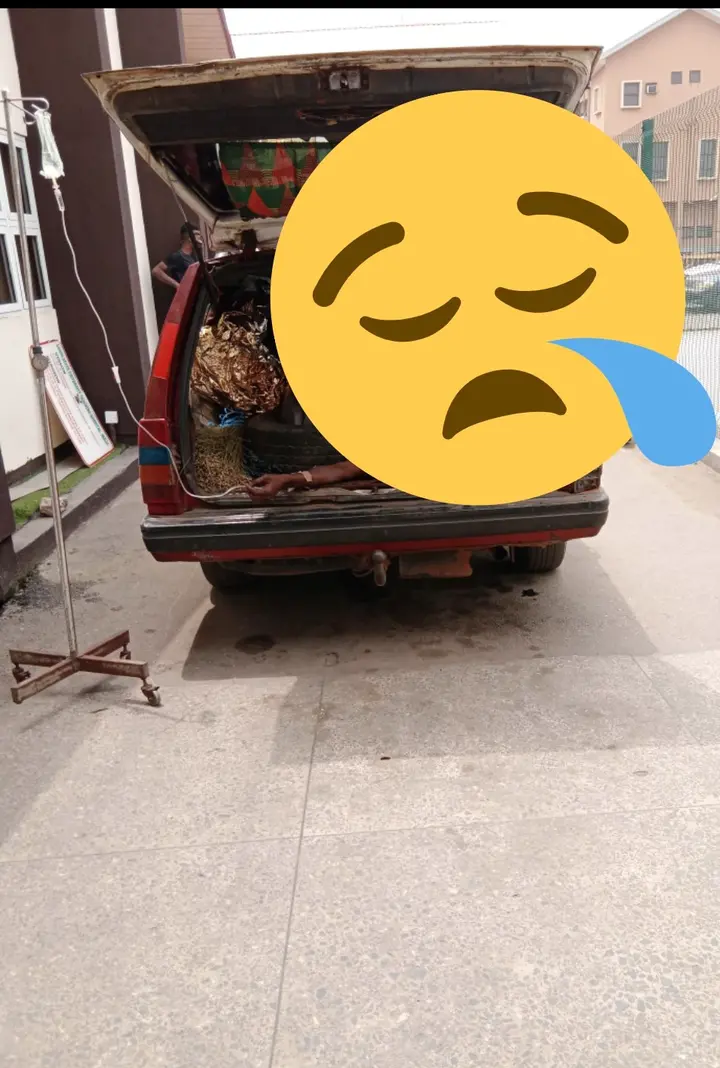 Mark getting treatment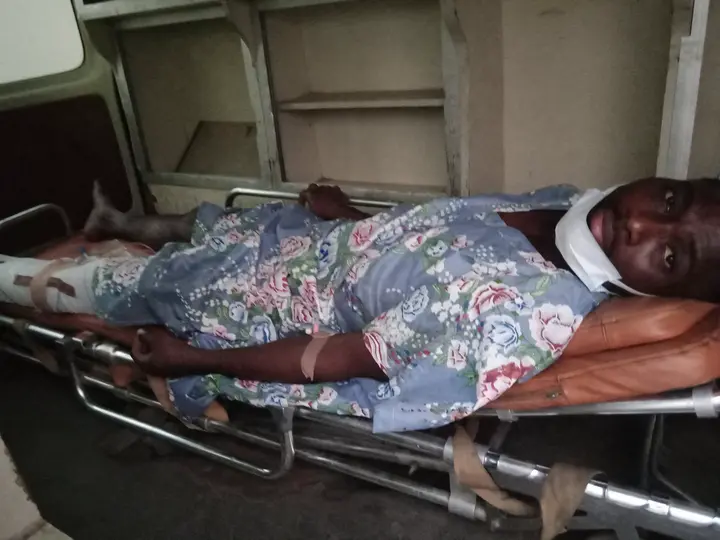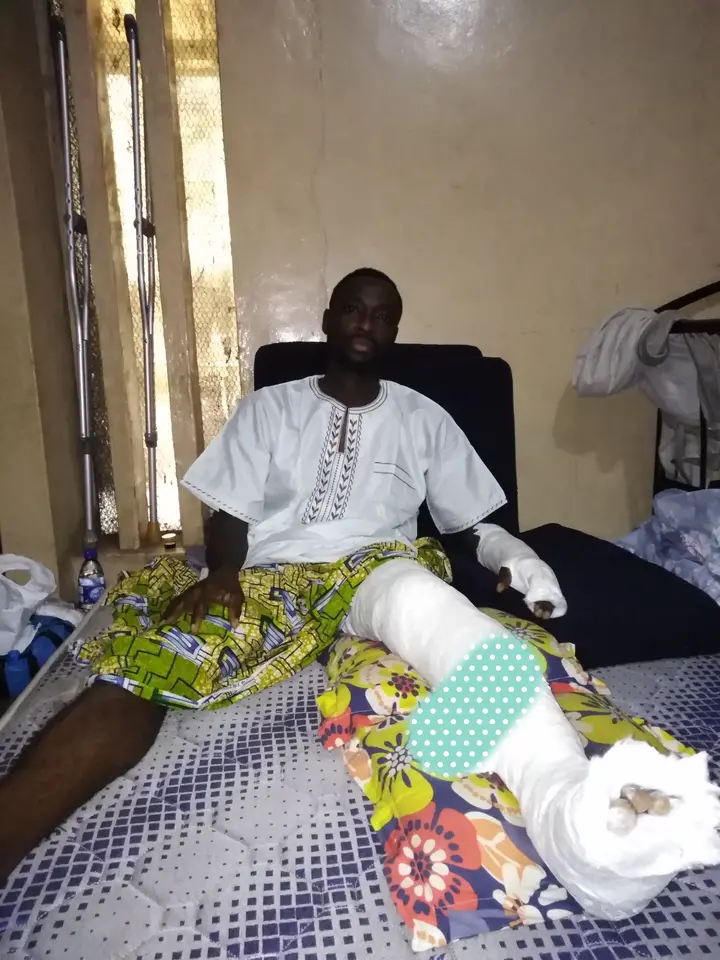 Mark says that 'I typed this post with one hand because my left hand and leg are covered in plaster cast (POP). I am healing fast but Doctors say my leg will be like this for at least 3 months. To God alone be all glory, and honor and power and all praise, Amen. '
What can you say to this?
Recommended for You