Military on Secret Mission to Wipeout Igbo Youths, South-East Youth Leaders Allege
Military on Secret Mission to Wipeout Igbo Youths, South-East Youth Leaders Allege
The Coalition of South East Youth Leaders (COSEYL) has alleged that the Nigerian military is on a secret mission to exterminate youths of the region.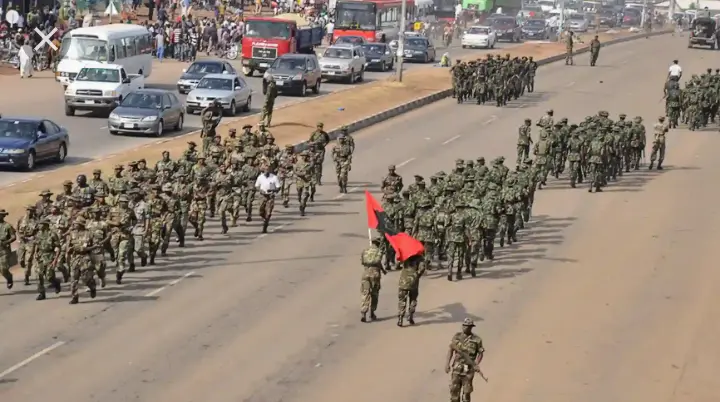 A statement by COSEYL signed by it's President General, Hon. Goodluck Ibem and Secretary General, Comrade Kanice therefore called on the Federal Government to immediately withdraw troops deployed to the region.
COSEYL claimed that the soldiers were extrajudicialy killing youths.
The youth leaders alleged that a first-year law student of the Imo State University (IMSU), Divine Nwaneri, was killed by soldiers around the Imo State Governor's Office.
They further alleged that a 39-year-old Owerri businessman, Mr. Noel Chigbu, fell victim to the soldiers on Friday, April 30, 2021. He was shot by soldiers at Amakohia junction, for allegedly "violating their checkpoint rule"
COSEYL demanded that the military identify and handover the soldiers involved in the unlawful killings to the police for prosecution.
They also accused troops of killing unarmed agitators while pampering Boko Haram terrorists, noting that it was a clear testimony that Ndigbo have been marked for extinction by the Nigerian military.
The youth leaders therefore cautioned the Federal Government against provoking Igbo youths.
However, Imo State Attorney General and Commissioner for Justice, Chief Cyprian O. C. Akaolisa, while a guest on a phone-in programme on Hot 99.5 FM radio station, Owerri, disclosed that the soldiers involved in the incidences have been arrested, detained and are currently facing orderly room trial at the 34 Artillery Brigade, Obinze.
He said when the Army is done with their investigations, the soldiers will be handed over to the Police who will investigate further and forward their findings to his office for possible prosecution.
Related