Read 2 Things South Korea Asked President Buhari To Do To End Terrorism And Banditry In Nigeria
Read 2 Things South Korea Asked President Buhari To Do To End Terrorism And Banditry In Nigeria
According to President Buhari, this would prevent the growing insecurity in Nigeria and African sub-regions from spilling over to other neighboring countries. This statement was delivered to the United States Secretary of State Mr. Anthony Blinken by his media aide, Femi Adesina during a virtual meeting in April. 
Recall that notable Nigerians like Nobel Laureate Professor Wole Soyinka and former Vice President Atiku Abubakar had months ago called on Buhari to seek international to end insecurity in the country. But despite these calls for foreign help, South Korea believes President Buhari or Nigeria does not need any external assistance to solve its myriads of security challenges. This was made known by South Korean Ambassador to Nigeria, King Young-Chae. He said this in Abuja. He was of the opinion that the insecurity taking over Nigeria is similar to family misunderstanding that does not call for the help of global community, but regional partnership. 
Mr. Kim said he is aware that every Nigerian is worried about the insecurity in the country in Nigeria. He said Nigerians should come together at a round table and discuss this among themselves. He added that it would become an international issue entirely if another country join forces with Nigeria. He, however, said all Nigeria needs is to cooperate with her neighbors to boost her internal defense. He said Nigeria must cooperate with Chad, Niger Republic and other neighboring countries to stop insecurity.
In addition to cooperating with neighboring countries, Mr Kim emphasized the need for the Nigerian Army to show professionalism in the discharge of their duty describing the Army as the nucleus of any peaceful society.
Part of Kim's words read:
"In South Korea, we have a very strong defense which is rated number six in the world. The military is very dedicated and there is little or no corruption in the system. The military is the center that holds the country together. If the military is corrupt, there is a high possibility that the whole country will be corrupt. Discipline and dedication are key in building a stable and efficient military."
What is your take on Mr. Kim's suggestions to President Buhari on how to end terrorism and banditry? Do you share the same sentiment with him or have a different opinion? Kindly make your take known in the comment section. Like, share and follow this handle to get notified on topical and trending issues as soon as it is dropped.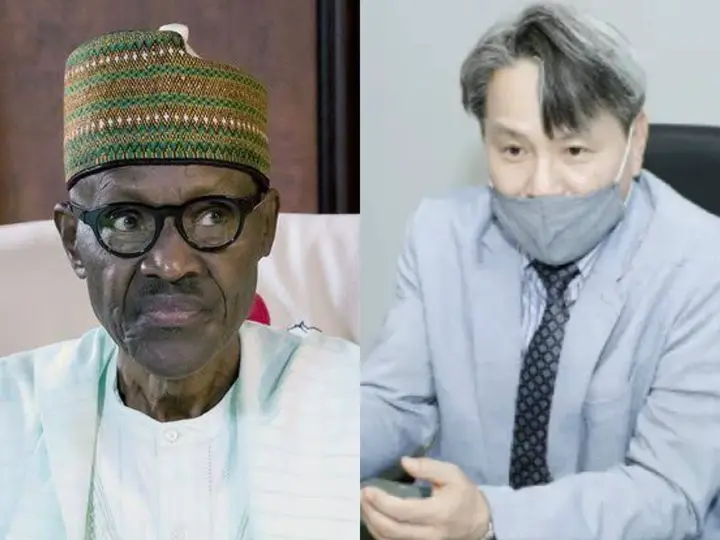 Related