We are More Than 10 Million, Nobody Can kill Sunday Igboho Except Yorubas Betray Him – Lady Says
We are More Than 10 Million, Nobody Can kill Sunday Igboho Except Yorubas Betray Him – Lady Says
A Nigerian lady has said that nobody can kill Sunday Igboho if his people did not betray him.
Sunday Adeyemo popularly known as Sunday Igboho is a Yoruba activist who recently declared that he doesn't believe in one Nigeria anymore.
His reason was that his people are under attack by herdsmen and faulted the Federal Government for not doing anything serious to curtail the spread of insecurity and other challenges facing the nation.
His action, however, has caused a face-off between him and the Nigerian government.
In solidarity with the warlord, a Yoruba lady has said that Igboho is in a safe hand.
Her name is Ifa Funsho, a Yoruba lady, she has claimed that about 10 million Yorubas are not joking with the actualization of a Yoruba nation
The lady said that though people think that Sunday Igboho is the only one agitating for the Oduduwa Republic, the truth is there are many Yorubas behind him, adding that he might be the face people have recognised as of now.
Complaining about harassments by the Nigeria security personnel, the lady condemned the idea of trying to arrest him at night, adding that if they want to arrest him, they should come in the day time.
She wrote on her Twitter page, "Nobody can kill Sunday Igboho, except Yoruba betray him. He's not the only one fighting for the Oduduwa nation. He might just be the face. We're more than 10 million. We're not playing this time. Nigeria Army should stop coming in the mid-night to fight. They should come in the day time".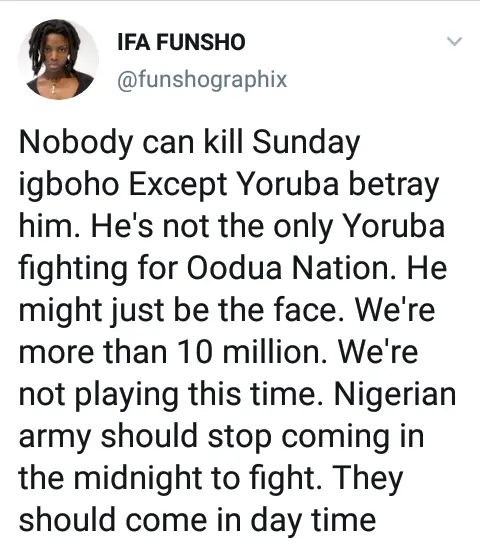 Related